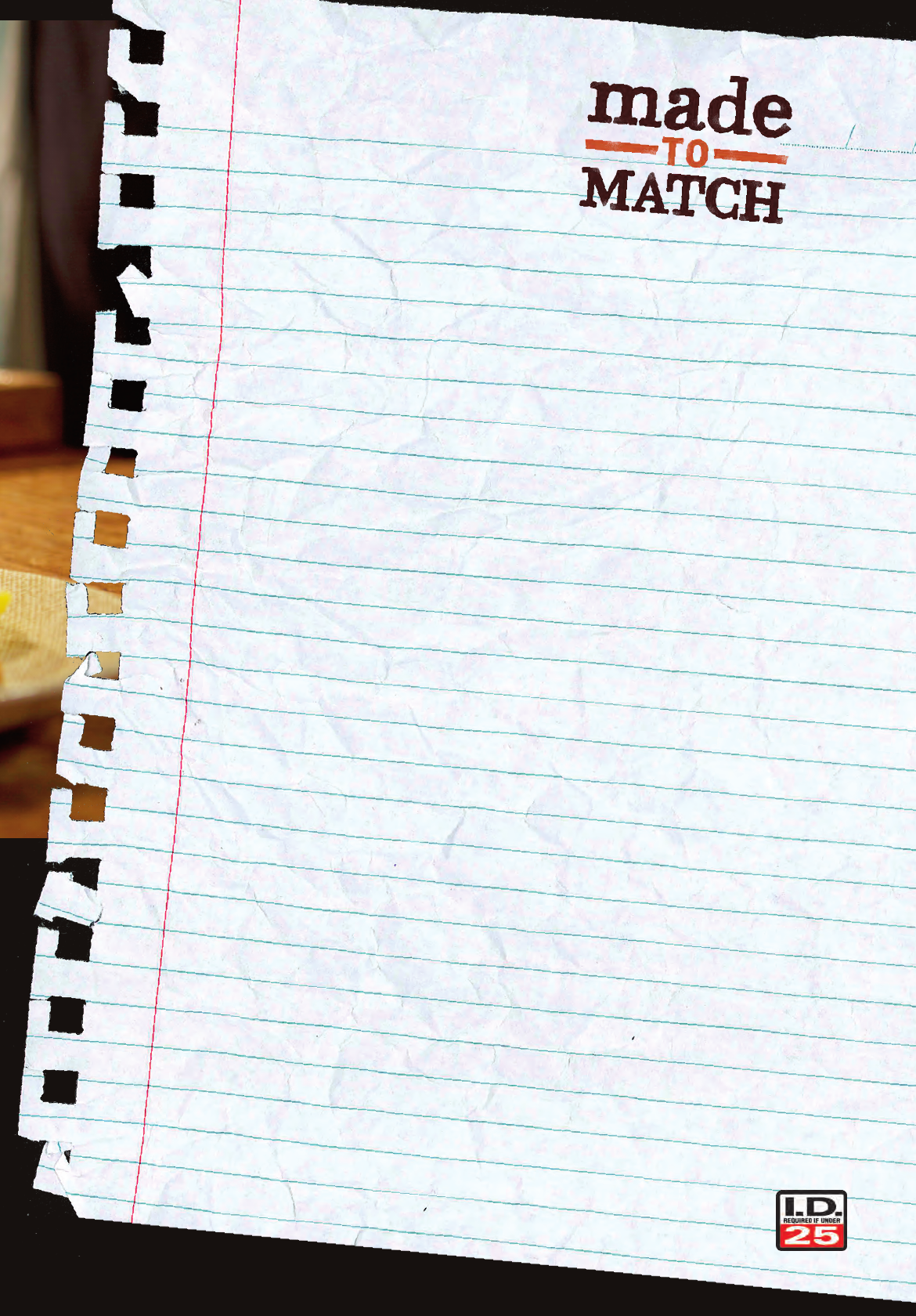 Al's Citrus and Thyme
Chicken Schnitzel with
Lemon and Fennel Salad
Pale Ales are one of the many
varieties of ale, named after
the pale malts used during
the brewing process. Light
in colour and characterised
by fruity hop flavours, there
is a huge range of flavour
amongst this great beer style.
From light and easy drinking,
to intense and challenging,
Pale Ales offer appealing
variety for both beginner and
experienced drinkers. All of
which go fantastically well
with zesty caramelised meats,
like Al's Citrus and Thyme
Chicken Schnitzel.
I haven't met too many people
young or old that don't enjoy a
delicious golden crisp schnitzel in any
form. This chicken number works
particularly well because of the
addition of lemon zest in the crumb
and the abundance of citrus in
the fennel salad. The acidic citrus
flavours cut through the richness of
the schnitzel and a pale ale on the
side compliments this dish perfectly.
Citrus
and Thyme
Chicken
Schnitzel
Ingredients
1 Kg Chicken breasts
(approx 3 large breasts)
Flaky Sea Salt
Freshly Ground Black Pepper
1 1/2 Cups Flour
3 Eggs
(beaten)
3 Cups Panko Breadcrumbs
(or regular bread crumbs)
2 Tbl Lemon Zest
(finely grated)
2 Tbl Fresh Thyme
(finely chopped)
1/2 Cup Italian Parsley
(finely chopped)
Method
Slice the chicken breasts horizontally
through the middle to create two
portions for each breast. Place each
chicken portion in between two
pieces of glad wrap and gently beat
each portion flat, with a tenderising
mallet or similar, to create uniform
sized portions.
Take three similar-sized bowls. Add
flour to the first, beaten egg to
the second and the crumbs, lemon
zest, thyme and parsley to the third.
Dredge each piece of chicken in
flour, dip in egg, and then press
into the breadcrumb mix to get a
good coverage.
Once all six pieces are complete,
refrigerate until required.
Makes: Enough for 6
Lemon and
Fennel Salad
Ingredients
2 large Fennel Bulbs
(sliced wafer thin)
1/2 Cup Red Onion
(thinly sliced)
1/4 Cup Italian Parsley Leaves
(roughly chopped)
1/4 Cup Dill
(roughly chopped)
1/3 Cup Mayonnaise
1 Lemon
(zest and juice)
Flaky Sea Salt
Freshly Ground Black Pepper
Method
In a bowl, place all of the
ingredients bar the salt and pepper.
Mix together gently to combine, and
then season to taste. Refrigerate
until required.
Cooking
and Serving
Ingredients
Canola Oil
(or similar)
Citrus and Thyme Chicken Schnitzels
Lemon and Fennel Salad
Lemon Wedges
Method
Pre heat oven to 100 degrees.
Heat a large skillet or frying pan
to a medium-high heat. Add a liberal
amount of cooking oil to the pan
and once hot, add the schnitzels to
the pan one or two at a time. Cook
for one to two minutes on each side
until golden brown. Remove and place
in a paper-towel lined oven-proof
dish. Keep warm in the oven.
Plate each schnitzel with a generous
serve of lemon and fennel salad and
a lemon wedge on the side.