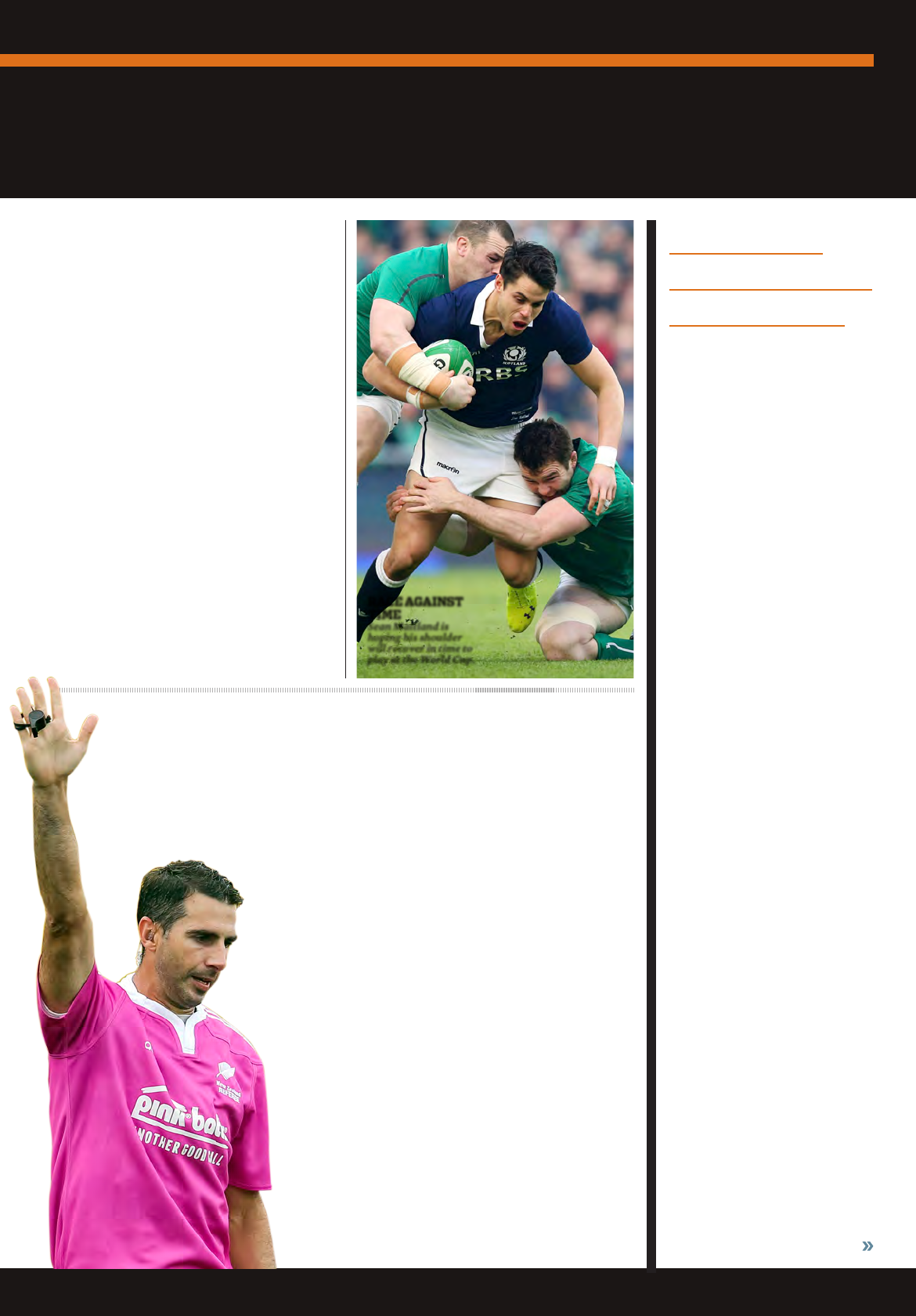 OUR ROUND-UP OF THE RELEVANT AND RANDOM BITS OF INFORMATION THAT YOU MAY HAVE MISSED
■
Charles Piutau was all set to stay
in N
ew Zealand u
ntil he m
et a
Leprechaun under a b
ridge.
The Leprechaun had a bag and he
asked Charles, "Do you know what
is in here?"
"Would you like to see inside?"
inquired the Leprechaun
■
And so Charles looked. And there
was gold. More gold than he could
ever imagine. Shiny, glistening gold
■
.
"This gold could all be yours," said
the Leprechaun "All you have to do
is follow me back to Ireland and I'll
give it to you."
"But what about the other people
who didn't oer me gold, but
something black, man-made...100
per cent polyester I think? I have
said to them I like the polyester –
breathable stu mind, that allows
you to sweat – and that I will
take it."
■
"Gold, Charles...gold," said the
Leprechaun
And with that, Charles decided
Ireland, where the gold is, would
be his new home.
■
The Leprechaun carried on his
journey and a little further down
the road he met Francis Saili.
The Leprechaun took out another
bag and he asked Francis, "Do you
know what is in here?"
■
"Would you like to see inside?"
inquired the Leprechaun
And so Francis looked. And there
was silver. Not much silver if truth
be told, but enough for Francis'
eyes to light up.
"This mildly impressive pile of
silver could all be yours," said the
Leprechaun "All you have to do is
follow me back to Ireland and I'll
give it to you."
Francis pondered a while. Was it a
trick he wondered?
■
Why would a Leprechaun be
oering me silver, he thought to
himself?
I made six errors in Sydney the
other day he mused. I could barely
get a game for Auckland last year
and I have the distinct feeling John
Kirwan has sussed out that I'm
IN CASE
YOU WERE
ASLEEP...
Here's our undiluted opinion
on all the action from the last
eight weeks.
Maitland faces
World Cup wait
ORMERF
WING CRUSADERS

Sean Maitland
faces a nervous wait to see if h
e c
an recover from
shoulder surgery in time to play at the World Cup.
Maitland had surgery on a long-standing
shoulder problem at the beginning of the year
that saw him miss the Six Nations. His club,
Glasgow, have confirmed he won't play again for
them this season.
Maitland will join London Irish in the next
UK season where he will hook up with Chiefs
assistant Tom Coventry.
Glasgow coach Gregor Townsend: "Sean
Maitland, who has worked really hard during his
rehab, got some tough news last week when it
became clear that his shoulder would require
surgery. The operation was a success and he's
targeting to be back for the Rugby World Cup. I'd
like to take this opportunity to thank Sean for his
contribution to the club.
"He's been an excellent player for us and we
wish him well at the Rugby World Cup and also
next season at London Irish."
Maitland, who can also play fullback, has 16
caps for Scotland, made 40 appearances for
Glasgow and scored 10 tries since joining from
the Crusaders in 2012.
JUNE/JULY 2015 //
NZ ruGBY WOrlD
//
9
NO SURPRISES IN REFEREE POOL
D
ORL
W
GB
RU
Y
has unveiled the 12 referees who will be in action in England this year,
with n
o s
urprises among the panel.
The World Cup will see France provide three referees – Jérôme Garcès, Romain Poite
and Pascal Gauzère. New Zealand, South Africa, England and Ireland will provide two
each with one from the Welsh Rugby Union.
The selection was made after a review of performances by the World Rugby match
ocial selection committee.
Chairman of the selection panel John Jerey said: "Since Rugby
World Cup 2011, we have been focused on developing a strong panel
that can preside over the 48 matches at this year's tournament.
The fact that seven of the referee panel were involved in the 2011
tournament points to the big-match experience that they hold.
Indeed, between the 12 of them, they have refereed no fewer than
361 internationals.
"The five referees who were not at RWC 2011 have done very well
to progress through their own pathways, in Sanzar, in Europe and from
the World Rugby Under 20 Championship, to make it to the biggest
stage of all. The focus for all these match ocials at this point is on
consistency and performing at the highest level."
The full list of referees with their union and number of tests
in brackets is: Wayne Barnes (RFU, 57), George Clancy (IRFU,
38), JP Doyle (RFU, 12), Jérôme Garcès (FFR, 22), Pascal
Gauzere (FFR, 17), Glen Jackson (NZR, 10), Craig Joubert
(SARU, 55), John Lacey (IRFU, 13), Nigel Owens (WRU, 60),
Jaco Peyper (SARU, 20), Romain Poite (FFR, 39) and Chris
Pollock (NZR, 18).
The full list of assistant referees with their union and
number of tests as AR in brackets is: Federico Anselmi (UAR,
five), Stuart Berry (SARU, 15), Mike Fraser (NZR, 10), Angus
Gardner (ARU, two), Leighton Hodges (WRU, 19), Marius
Mitrea (FIR, 13), Mathieu Raynal (FFR, nine).
The television match ocials for the six-week tournament
are: George Ayoub (ARU, 33), Graham Hughes (RFU, 60) Ben
Skeen (NZR, 11) and Shaun Veldsman (SARU, 50).
RACE AGAINST
hoping his shoulder
will recover in time to
play at the World Cup.