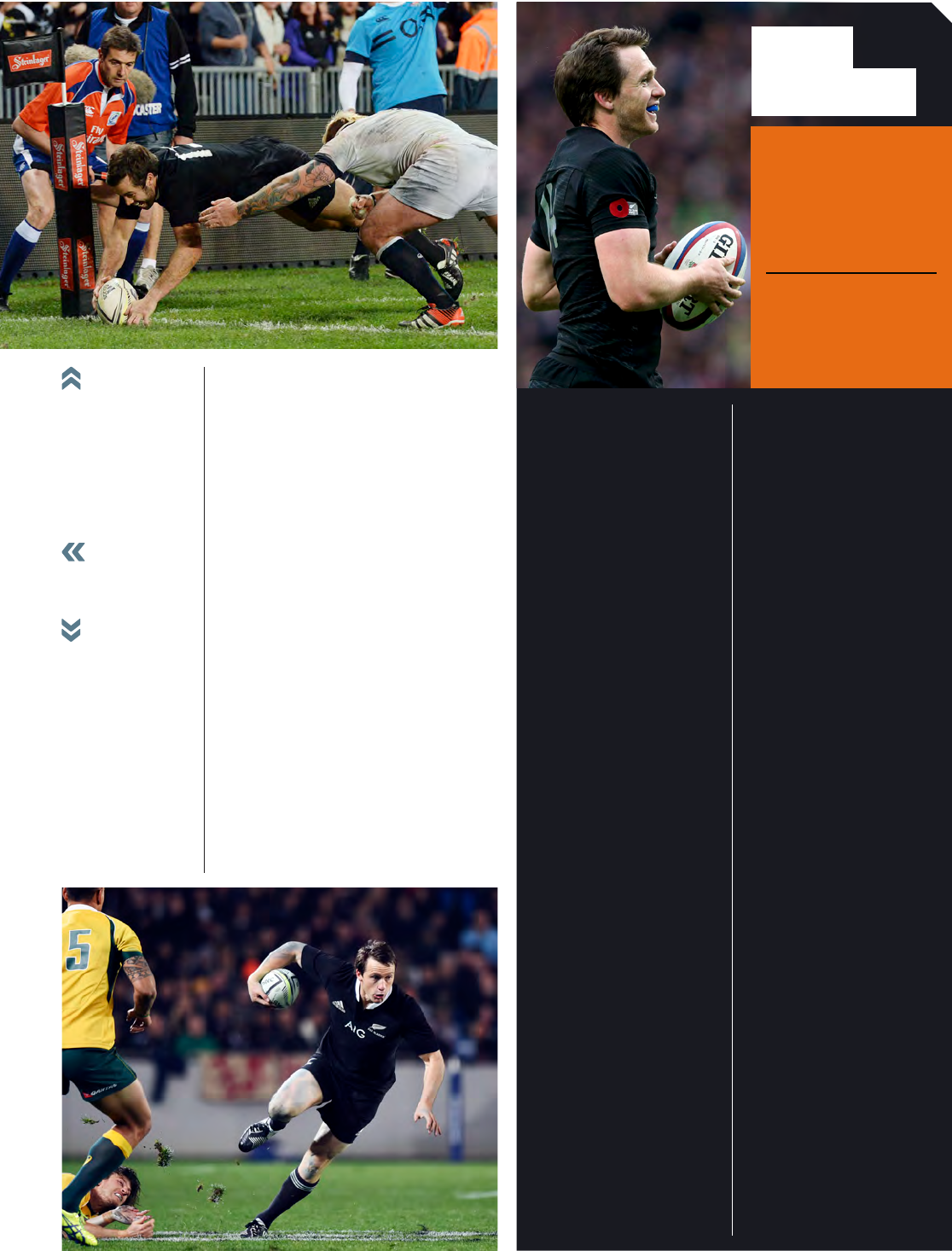 JUNE/JULY 2015 //
NZ RUGBY WORLD
//
29
firmed on his view he would do
one more campaign with the
Highlanders then head
overseas.
He'd given New Zealand a fair
crack he reckoned and he
couldn't quite establish himself
as an All Black starter.
First capped in 2009, it wasn't
until 2012 that he became a
squad regular. His versatility
made him a great option for the
bench and he couldn't see how
that was going to change. Cory
Jane was sensational on the
right wing; Israel Dagg in
command of the No 15 jersey
and Julian Savea so strong on
the left wing.
Smith agonised about his
future until, eventually, the All
Black coaches were able to
persuade him that he would
regret not hanging about; that
they saw him as being in
possession of a special set of
skills that could transform him
into an international sensation.
By the end of the June series
against France in 2013, everyone
could see they were right. Jane,
who had been the best wing in
the world in 2012 was ruled out
with injury and in came Smith
who took the standard to
another level.
He was miraculous under the
high ball; tackled everything;
came o his wing with smart
lines; stepped, dummied,
o-loaded to be the back of the
series then back of the Rugby
Championship.
Before the third Bledisloe of
the year in Dunedin – a game in
which Smith would start at
centre – Hansen said: "When he
came I don't think he believed
he should have been here.
"He had doubts and that is
not unusual for young people
coming into the All Blacks. But
as time has gone on he's got
more comfortable in the
environment and on the field, to
the point where he's playing
outstandingly well. He's not a
natural talker and he's not
somebody who has the
tendency to waste too many
words. He's a quiet, understated
achiever."
Smith finished the year with a
World Player of the Year
nomination and a nation's
admiration. He had become the
sort of player everyone loved –
smart, accurate, committed and
so skilled.
The All Black coaches were
right in their insistence he was a
world class talent and there
was more proof of that in
Dunedin last year when Smith
was handed his first start at
fullback and gave the sort of
performance in the No 15 jersey
not seen since Christian Cullen
filled it.
Smith is now the man who
can't be ousted from the All
Black back three. Whether it be
wing or fullback – it doesn't
matter says Hansen – Smith is
too good to leave out. And yet,
for all that he's become a global
phenomenon, Smith has never
given any indication he sees
himself that way. Unassuming
doesn't even get close to
summing him up, as typified
when he was asked whether he
had finally come to believe that
he has accepted he's good
enough to be in the All Blacks.
"I think I have. You grow as a
player as you go through.
Looking back, I was probably a
wee bit out of my depth at that
time [2009]. I was trying to learn
as fast as I could. I think I have
picked up things along the way,
and it was probably good for me
because it made me learn a wee
bit more quickly."
bEN
SMiTH
New Zealand may only
know the value of
Conrad Smith when he
is no longer there.
KEy SKillS
Superb footwork
Insanely good running angles
Brilliant timing
Immaculate under high ball
Naturally smart footballe
r
Ben Smith took wing play
to even greater heights
than Cory Jane in 2013.
Park in the last minute when he ran blind
from a scrum to dot down in the corner
after seeing there was a potential overlap.
All Black coach Steve Hansen sums up
Smith nicely when he says: "You wouldn't
say Conrad was flashy but he is one of the
best centres in the world and what makes
him that is that he does everything right
when you need him to do it."
Much the same could be said of Ben
Smith but he also carries an X-factor
component to his game. No one picks it
because he's unassuming in character and
build. At 1.86m and 93kg, Smith is well put
together but small, comparatively, with
other wings in world rugby.
He can't run over the top of anyone and
nor does he have blistering top end speed.
What he does have, though, is cunning
and complexity. Watch him enter the
collision zone and see his footwork. It's
total artistry.
Watch him change his pace to fox
defenders or leave his run so late that
no one ever sees him coming. He's
miraculously good under the high ball
and somehow, against the odds, he beats
the first defender almost every time.
His crowning moment came last year
on his home ground in Dunedin when he