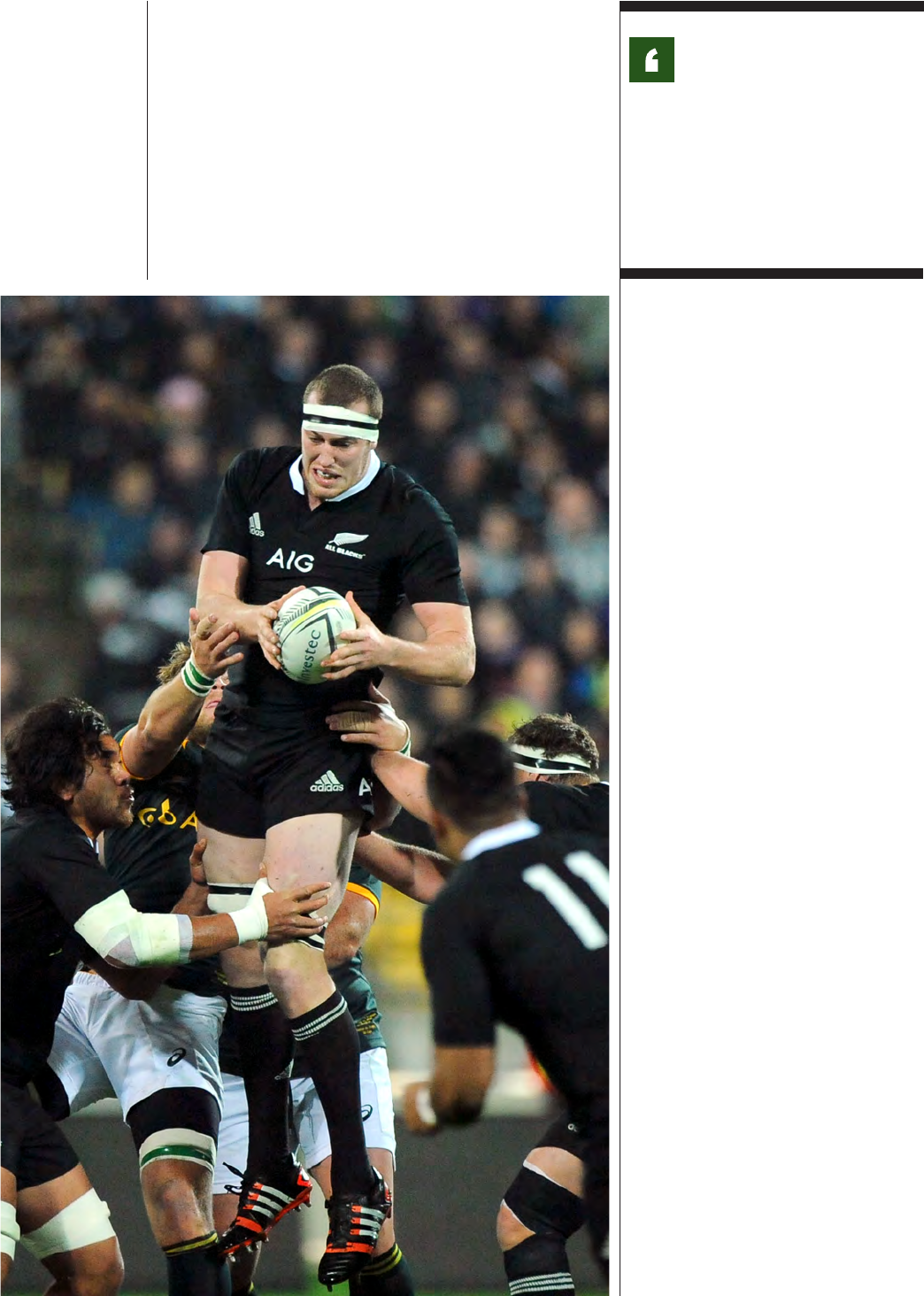 42
//
NZ RUGBY WORLD

// JUNE/JULY 2015
the next option gets a little hard to pick. Frank Halai, Bryce
Heem and Waisake Naholo are also leaving. Patrick Osborne will
likely be elevated but if there is a run of injuries, New Zealand
will be scrambling.
The bigger worry for the NZRU was not so much the immediate
impact of losing Slade and Piutau, it was the possibility it was
signalling a new trend.
The All Black jersey had not proven to be enough. That was
unusual. Slade and Piutau have plenty of football left in them and
New Zealand won't get it. Two things emerged – the first was
that the most valuable part of New Zealand's mid-tier are not
always particularly well paid.
There is a payment hierarchy in New Zealand that sees the
longer servers – proven test performers – paid the best. It is a 'pay
your dues' kind of system which is why the best paid players are
McCaw, Carter, Kieran Read, Sam Whitelock and Jerome Kaino.
It was crucial that New
Zealand managed to
keep Brodie Retallick
beyond this year.
The likes of Piutau, say, earn, maybe,
about $190,000 in Super Rugby and can
pick up All Black fees of $7,500 for every
week they are assembled. If they make
each squad, that equates to about $120,000
a year with maybe another $30,000
coming from Auckland Rugby. Best case,
he'll make $340,000.
If he doesn't make the All Blacks, it will
be $220,000 and while that is good money,
it is dwarfed by the $1 million Ulster
offered. And that's $1 million guaranteed.
Ulster will be branded predatory but
they, like most other European clubs, have
realised they haven't been smart in the
professional age. They have tended to pay
big for veteran All Blacks at the end of
their careers and not had much out of
them. Now, they are upping the money for
New Zealand's younger men.
"Why should rugby be any different to
other sports? International football clubs
tend to chase young talent," says NZRU
general manager of professional rugby,
Neil Sorensen. "So they can get the benefit
of that young talent.
"Lesser competitions in world football
tend to get the older guys at the end of
their carer. I totally understand why a
wealthy owner would go after Charles and
Colin. I get that and if we didn't get that
we would be fools."
What Sorensen also got was how
precariously the game was poised when
neither Retallick nor Savea had declared
their intentions.
"I think if Brodie and Julian decided
post Rugby World Cup to move on then it
would be really bad news for us," he said.
"You would have to start saying we are
not doing something right here and you
would have to say it was a trend. It would
have been great to keep Charles [Piutau]
and Colin [Slade] – but you wouldn't want
to lose two more current All Blacks.
"We can confidently say they are world
class players but they have also got a lot of
rugby ahead of them, too. I get that a
player might play here in New Zealand
until they are 28, 29 and then have the rest
of his career offshore. I can respect that
and empathise with that.
"What we don't want to do is have a
whole bunch of our top 40 players
disappear when they are 22, 23-year-olds.
If Julian and Brodie decide they are gone
as well it will be a major issue for us."
Why should rugby
be any different to
other sports? International
chase young talent, so they
can get the benefit of that
neil sorenson