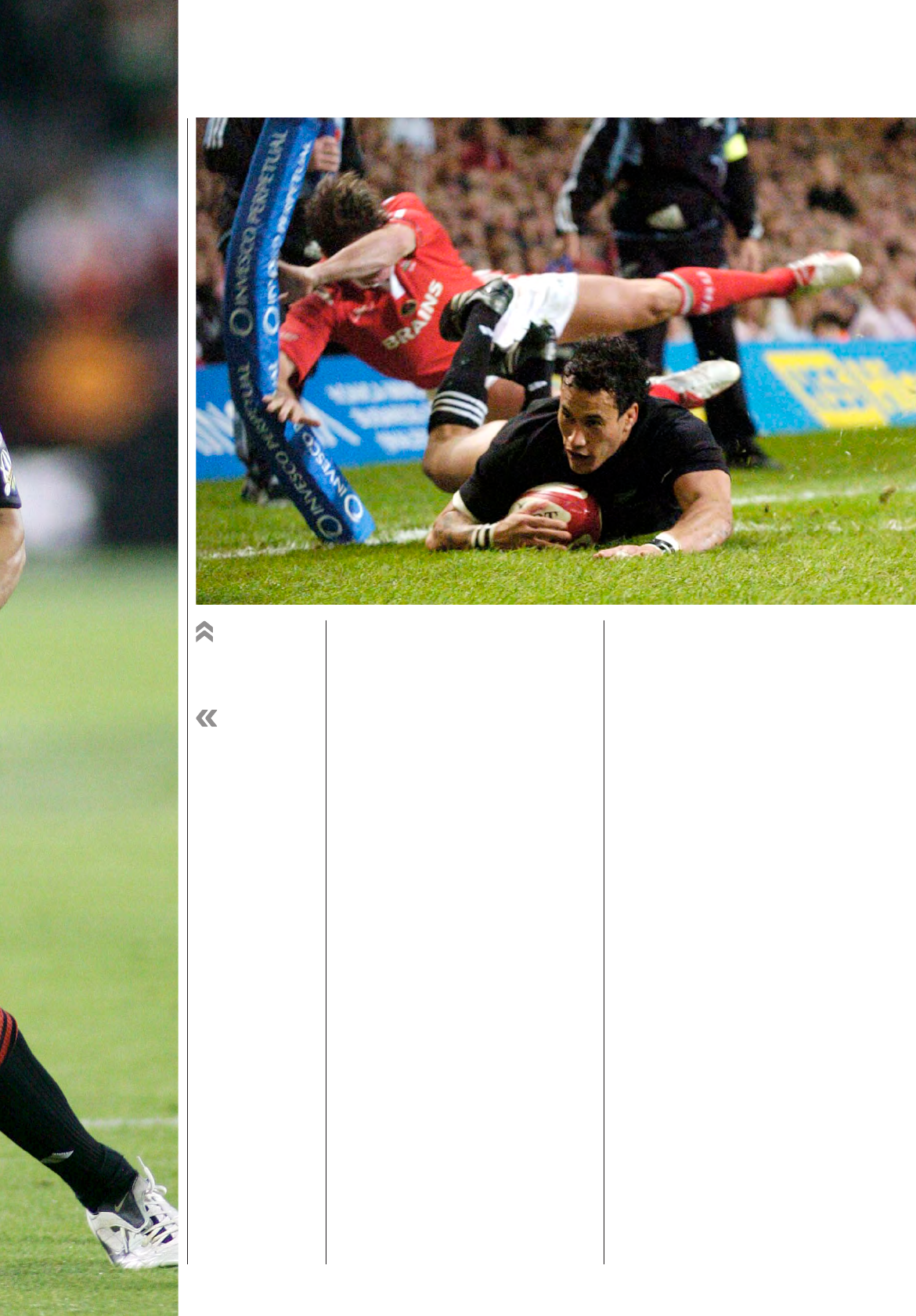 JUNE/JULY 2015 //
NZ RUGBY WORLD
//
63
RED DEVIL
Gear filled in for
Poverty Bay last
year wherever he
was needed.
Gear's hat-trick against
Wales in 2005 was a
masterclass in finishing.
I played centre and on the wing as well as
fullback. We were a little bit weak out wide
last season so we had to get an import."
The import, Brynn Uriarau, went on to
take up a spot in the Chiefs' development
side, reportedly turning down a lucrative
French contract. "I can't speak highly
enough of Rico," Uriarau said at the end of
last year. "Rico is a role model for me.
Because we play similar positions and he's
an All Black legend it was perfect timing to
play under him."
Julian Savea and Jonah Lomu have never
scored against South Africa, but Gear has a
couple of impressive tries against the
Springboks under his belt. He loved playing
in South Africa. "Purely for their passion
and enthusiasm for the game: you know
you're in South Africa when you're playing
there, you can see what passion they have
as a country."
Like Hosea, Rico says the South African
team and crowds are the hardest to play
against, but also lift your game. "The
stadiums are purpose built for rugby there;
they're right on top of the ground. The
conditions are always hard and fast."
Gear's down-to-earth when he's asked
about his achievements, like back-to-back
Super Rugby titles as the Crusaders' top try
scorer in 2005— a Super record scoring 15
times— and 2006. "It's great that I was able
to play as long as I did. Some of my friends
have had to retire at a certain age due to
injuries so it's definitely been great that
I've been able to have a full career. I've had
a few injuries along the way but certainly
nothing serious enough to force me to
stop. So I might even have the odd game
for Poverty Bay this year," he says with
a chuckle.
G
ear's parents taught him about
Maori culture growing up. "We
spent lots and lots of time on the
marae. Out at Puha, about 40
minutes out of Gizzy, and at Mangatu
which is a bit further from there. And we
spent time at Tolaga Bay, where my
grandparents lived. They were both fluent
Maori speakers. That was always quite
prominent in our family."
One thing Gear was taught was the
importance of hauora (health and
well-being). That explains why he's
prepared to speak out against KFC's
sponsorship of Super Rugby. "How
conflicting is it? It doesn't really make
sense and to me you're certainly not
driving the right thing. It is a bit
disappointing and I'm surprised that
they've actually gone down that track...I
guess to the Union it's revenue, right? And
they're running a business, that's what
they do, but from my point of view I would
prefer it to be something else, not bloody
fast food takeaways."
Aren't there better sponsorship
opportunities that don't conflict with the
kaupapa (values) of what rugby is
supposed to be about these days?
"Absolutely, you can quote me on that. I
don't mind that at all. I'm sure other
people are thinking that as well. How does
that even relate to athletes and health and
being sporty? It really doesn't make a lot of
sense, having that sort of partnership with
something which is not good for you."
Gear's passion for clear talking was
famously seen in the last haka he led for
the All Blacks in 2007 - an unforgettable
version of Kapa o Pango against Australia
in Melbourne, with a front row of Tana