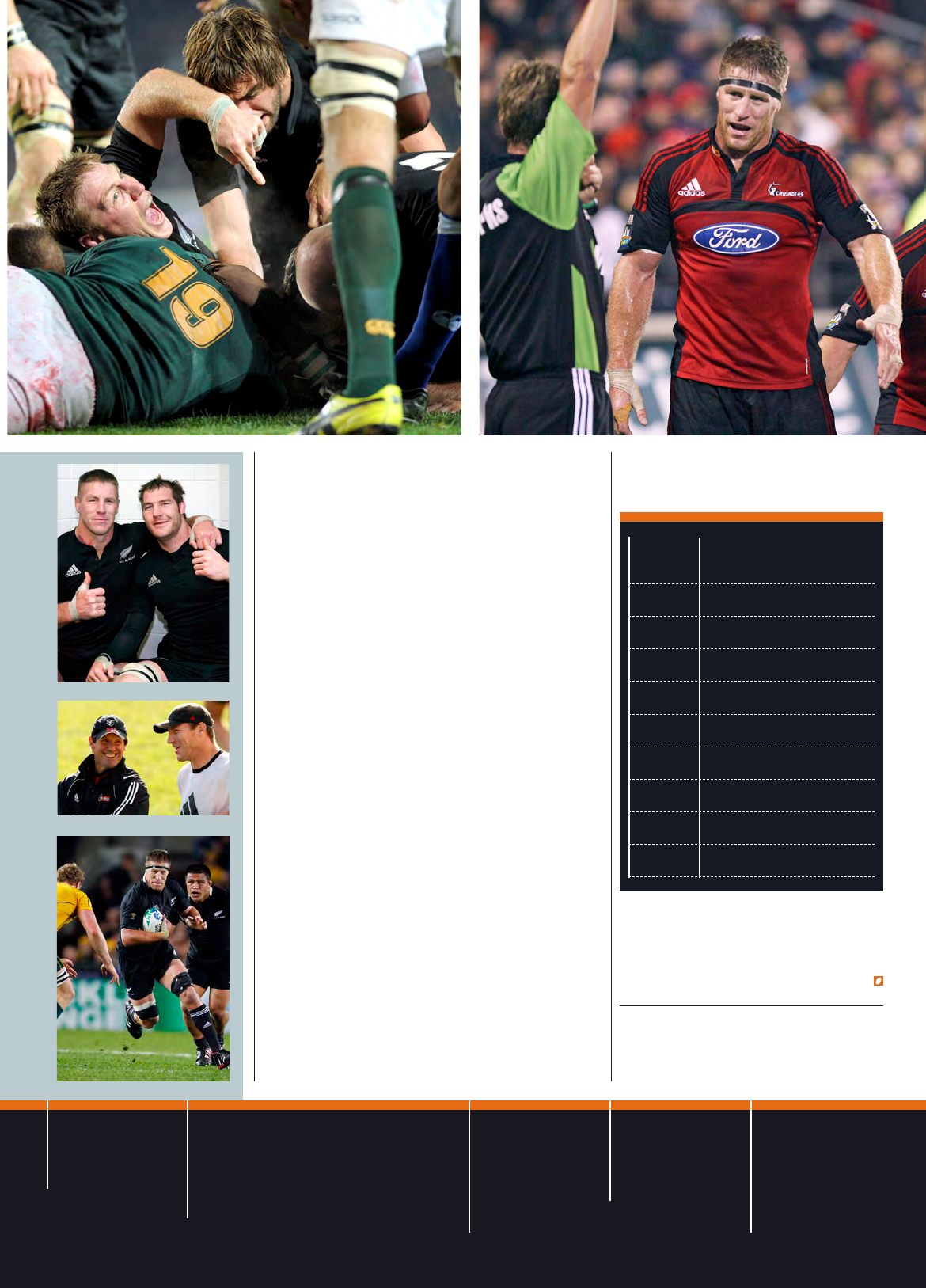 JUNE/JULY 2015 //
NZ RUGBY WORLD
//
71
2011
After winning his
50th cap in November
2010
, Thorn continues to show his class,
driving the All Blacks to ever higher standards.
He was superb at the
World Cup – one of the
players of the tournament
.
2012
then is rushed to
Ireland where he
the Heineken Cup.
2013
Plays a full season
and wins a contract
to stay on for 2014.
2009
re-signs until 2011.
2014
the start of the
English season and
this year that he is
by appearances
imaginable. He had won NRL titles with the
Broncos; played State of Origin; won eight caps
with the Kangaroos; won Super Rugby with the
Crusaders; won 59 All Black caps which included
a World Cup winner's medal.
But he wasn't finished. Off he tootled to Japan
where he enjoyed one season before answering an
SoS call from Leinster. They had suffered a run of
injuries at lock and would Thorn be able to help them
out. His Japanese club agreed and amazingly Thorn
slotted straight into the Leinster starting team.
He won over his teammates just days after arriving
when one of the Leinster loose forwards, an Irish cap
no less, was a little too prone to talk about himself
during training. Legend has it that Thorn, tiring of
the hot air, broke up one scrum to inform his new pal
that he needed to talk less and push more. Silence
resumed and with it came blessed relief which
signified the respect and admiration in which a
player of Thorn's standing was held.
Amazingly, Thorn found himself accepting a
Heineken Cup winner's medal and still the story
didn't end. The Highlanders were the next to send
out an SoS and Thorn, being of course a Mosgiel boy
by birth, could hardly say no. He'd always harboured
a desire to one day play for Otago or their alter ego,
the Highlanders – something he felt would have
made his father proud.
He couldn't really hack the pace and intensity of
Super Rugby at his age could he? No problem. He
wasn't vintage Thorn by any means but he was solid,
earning his jersey on merit and delivering plenty.
When injury cut his season short, the Highlanders
couldn't find a contract for him this year...but no one
was surprised that Leicester Tigers picked him. They
wanted a bruising, tight lock who could slam the ball
up the middle of the park and make tackles.
They wanted grunt, graft and ballast in their
scrum and an experienced campaigner who dig in for
the long haul. Thorn was everything they wanted
and no one cared that in February this
year, he turned 40.
It had to finally end, though. Of course
it did. But just because Thorn has gone,
does not mean he will ever be forgotten.
Thanks to Dave Richards Photography
for supplying the photo of Brad Thorn
on the opening spread.
www.daverichards.co.nz