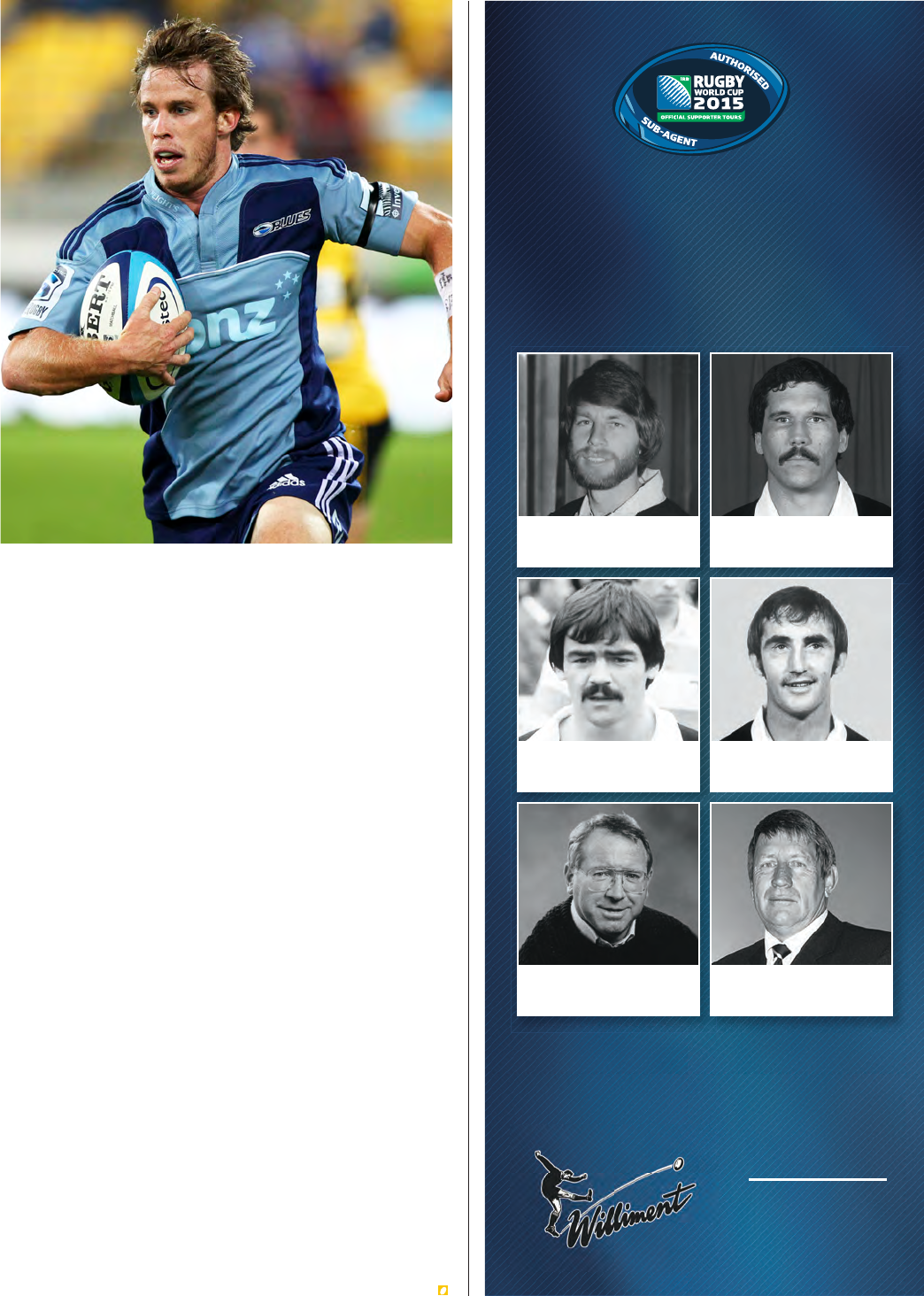 WILLIMENT.CO.NZ
BOOK NOW
0800 000 045
Introducing your RWC 2015
Williment Travel Tour Leaders
Williment Sports Travel brings an unparalleled
depth
of
experience
and
reputation
to
Rugby
touring,
taking
over 100,000
NZ
Rugby
fans
to
events
worldwide
over
the past
48
years.
ALLAN HEWSON
FULLBACK 1979 -84 TESTS: 19
MURRAY PIERCE
LOCK 1984 -90 TESTS: 34
DAVE LOVERIDGE
HALFBACK 1978 -85 TESTS: 24
ANDY LESLIE
NUMBER 8 1974 -76 TESTS: 10
KEITH QUINN
NZTV SPORTS COMMENTATOR
ROSS COOPER
ALL BLACKS ASSISTANT COACH 1995-97
TM © Rugby World Cup Limited 2008 - 2015. All rights reserved
JUNE/JULY 2015 //
NZ RUGBY WORLD
//
79
LANGUAGE
BARRIER
Having former Blues
team mate Lachie
Munro at Lyon has
helped Brett.
put them on. I'm playing for my family."
Family is a huge part of his life and motivation. It's the only thing
that he misses from New Zealand – that and a good steak and
cheese pie: he admits bringing back pastries and other ingredients
from the UK so he could make his own.
He gets along really well with his in-laws, who live less than a
two-hour drive from Lyon. "My partner has got a crazy uncle, who
is an old DJ. He is very good fun. They don't really speak English, so
it's good for me to practise my French. We catch up as much as
possible."
Brett feels also better in the big and dynamic city of Lyon. Life in
a metropolis suits him better than Bayonne's village-like
atmosphere. Former capital of the Gauls within the Roman Empire,
Lyon is the third largest city in France. Its history is one of the
richest of the country: religious capital, financial and banking
centre during the Middle Ages, famous for its silk factories during
the 19th century, Lyon was even named 'world capital of
gastronomy'.
It is an attractive and dynamic city. And Brett enjoys that. "I'm a
big city man. I really enjoy Lyon, there's a lot to do here. You don't
have the sea nearby, but there is still the Miribel lake."
He also enjoyed one of France's most prominent cultural
manifestations: the Fête des Lumières. This uniquely Lyonnaise
tradition dictates that every house place candles along all windows
to produce a spectacular effect throughout the streets. With more
than four million tourists coming to Lyon for the occasion, the Fête
is a huge attraction Brett and his partner particularly enjoyed. "We
loved it. All the lights on the buildings, and the people walking
around, it's an awesome experience. It's like nothing I ever seen
before."
Around the city, he hadn't seen much until his mum came over to
meet her grand-daughter. They took the opportunity to discover
the countryside, the little villages and the wineries.
Brett feels good here, that he even admits having picked up some
French habits…like bad driving and swearing! "My driving has got
terrible. I do a lot of swearing at the French people. Obviously not
directly,
but in my car, to myself. French people are terrible
drivers, they never indicate in the roundabouts and they get
angry real quick."
He has one year left on his contract with Lyon, and by his own
admission, he's got a few years left of rugby under his belt. "I'm fine
with Lyon for another year. So I'm here for the moment anyway.
"