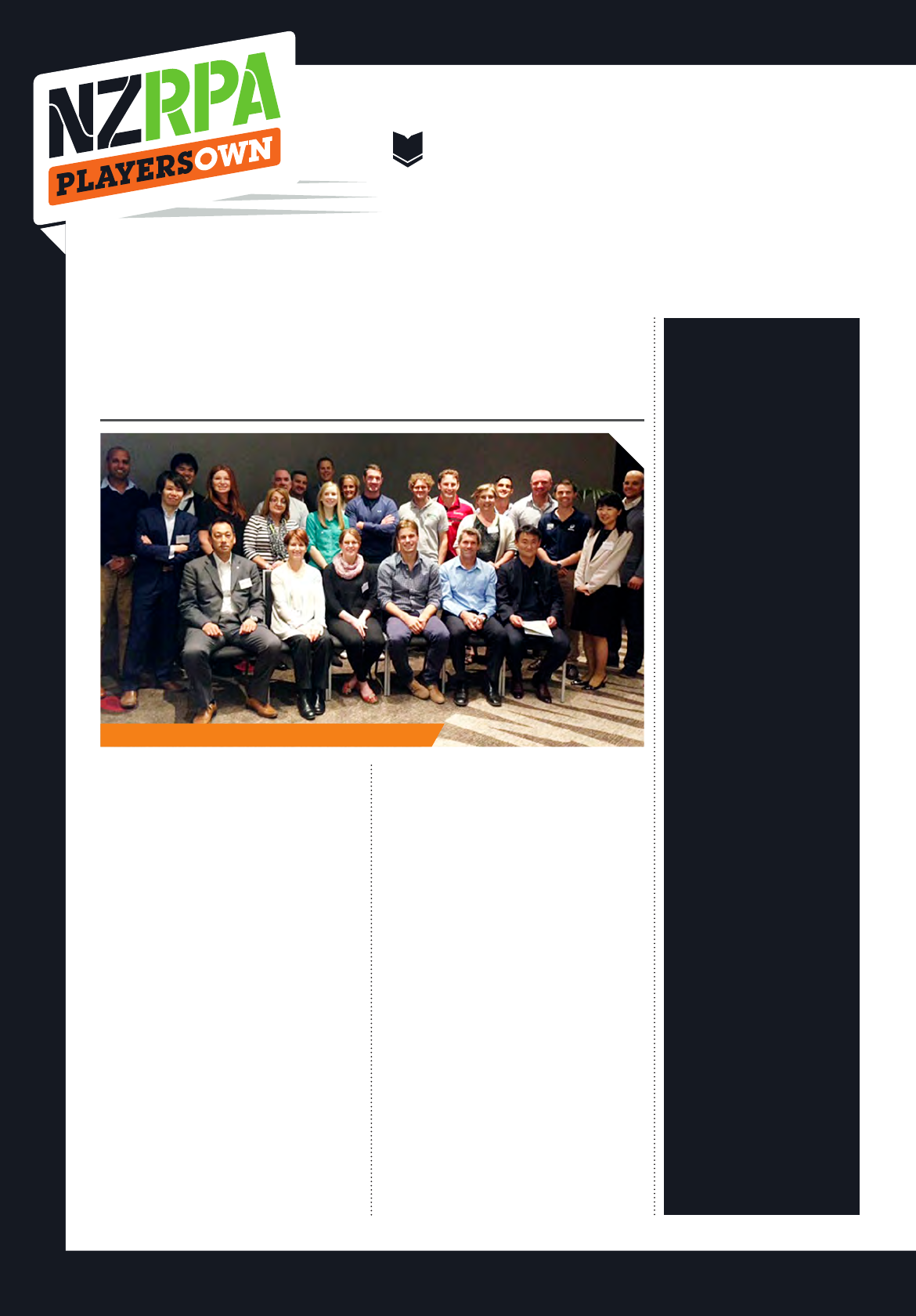 80
//
NZ RUGBY WORLD //

june/july 2015
Welcome to PlayersOwn! News,
views and articles for current
and retired players of our great
game, brought to you by the
NZ Rugby Players' Association.
figure
highly
Counties-Manukau
PLAYERS RECENTLY LAUNCHED
THEIR FIRST 'FAMILY NIGHT',
INTRODUCING MEMBERS OF
THEIR FAMILY TO ASPECTS
OF THEIR PERSONAL
DEVELOPMENT AND CAREER
PROGRESSION.
Parents turned up from
as far afield as Te Aroha and
Tokoroa to hear academy
manager Nick Leger and
trainer Tony Burgess give
presentations, before
personal development
manager Kylie Sousa
introduced the PD
programme.
Players then took over,
detailing key areas of
personal development they
focus on, like finance, mental
health and 'driving their cars'
(their futures).
"This went down really
well and the players really
stepped up," Sousa said. "The
parents really appreciated
how hard it was for the boys
to get up and one of the
leaders talked about how
much family are appreciated
and their support is really
valuable. One mum and dad
told me how much their son
was enjoying PD and they had
seen a real shift in him – he
was coming home every week
telling them what he had
learned."
The players – including
five Black Ferns – then joined
their families for a shared
dinner to complete the
evening.
RUGBY'S PLAYER RANKS WERE WELL
REPRESENTED AT THE RECENT
uni World
athletes global ConferenCe
IN
MELBOURNE.
The leading athlete associations
from the world's major professional
sports came together for the three-day
conference, with executive committee
member and NZRPA/IRPA boss Rob Nichol
joined by NZRPA player services manager
David Gibson, sevens and alumni PDM Tim
Weston and Crusaders/Canterbury PDM
Mark Ranby.
The overall purpose of the conference
was to formulate guidelines for player
personal development programmes, with
representatives sharing best-practice
techniques to lift their collective level of
awareness and engagement.
Among the topics discussed were:
what makes a successful player personal
development programme; what makes
a successful personal development
manager; measuring success, what does
this mean and how is it best done; what is
the best way to create and maintain player,
coach and management engagement
"It was great to get an appreciation
of how other major international sports
approach player personal development,"
Gibson reported. "It reinforced that,
although there are always areas the we
can improve, New Zealand rugby is at the
forefront when it comes to the personal
development of players."
Rugby was one of the best-represented
sports with player personal development
staff from England, Ireland, New Zealand
and Australia.
Other representatives came from
sports and countries as diverse as FIFPro
(worldwide footballers association),
Rugby League Players Association, NFL
Players Association, Japan Pro Footballers
Association, Slovenian Athletes Union,
Swedish Ice Hockey Players Association,
National Hockey League Players
Association, Japan Professional Baseball
Players Association and the New Zealand
Cricket Players Association.
The formation of Uni World Athletes was
completed last year, after three years of
close collaboration among global athlete
associations.
melbourne hosts
global conference
THE MELBOURNE CONFERENCE WAS WELL WORTHWHILE