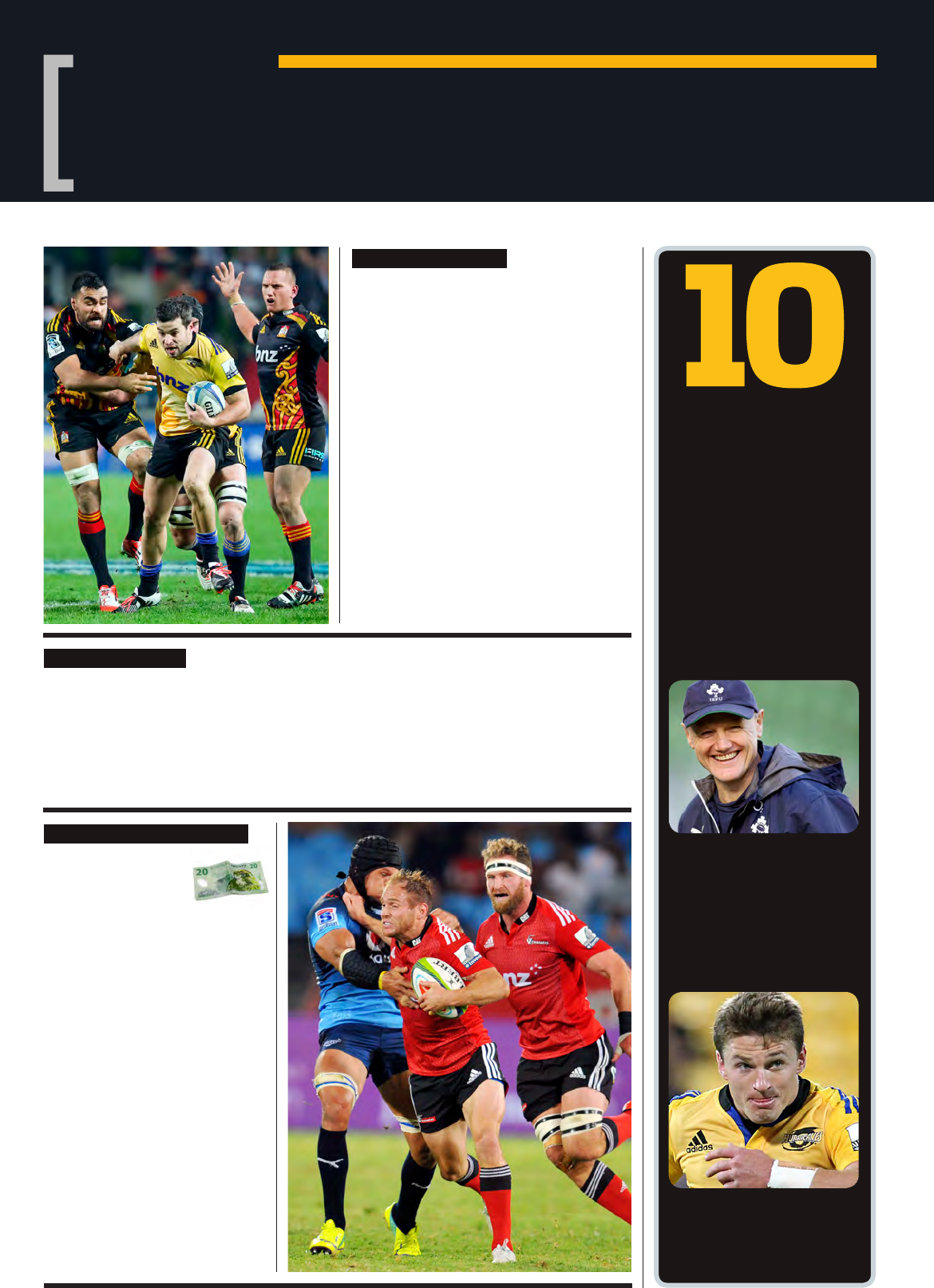 EXPECT TO SEE
Big changes at the Blues.
//
More fretting about Daniel Carter's form.
//
around concussion protocol.
//
A couple more players announce they are heading
oshore.
//
The Hurricanes lose confidence in their gameplan.
//
Stories about imminent
coaching changes at the Crusaders.
//
Interviews with World Rugby boss Brett Gosper
claiming the game has never been healthier.
//
Confirmation the broadcast rights to Super Rugby and
test matches have been sold for a major uplift in price.
//
More First XV stars being signed
directly by Super Rugby franchises.
//
Ali Williams pick up a media role in London.
WORTH A SNEAKY BET
to win
Super Rugby
Now just hang on a minute. What's
this nonsense you say. Fair enough,
we get that at the time of going to print
that didn't look likely. The Crusaders
were a frustrating mass of lateral
running and needless errors. We get
that their whole gameplan was pretty
much give it to Nemani Nadolo and
hope he does something. But look at
the personnel...Owen Franks, Sam
Whitelock, Luke Romano, Richie
McCaw, Matt Todd, Kieran Read,
Andy Ellis, Colin Slade, Dan Carter,
Ryan Crotty and Israel Dagg. Now
come on...these guys can all play and
didn't the Crusaders really win the title
last year but for one terrible refereeing
decision in the last minute?
They just need to sneak into the
top six and who knows...they are
good enough to win a title from the
cheap seats.
THE
WARMDOWN
THERE IS PLENTY GOING ON IN THE RUGBY WORLD, SO USE THE WARMDOWN TO PLOT YOUR WAY THROUGH IT.
96
//
NZ RUGBY WORLD

//

jUNE/jULY 2015
WHAT TO WATCH
June 13, 7.35pm
This is the game – the big one – that will
inevitably determine how the New Zealand
sides finish and who has home advantage
for the playos. It's hard to tell whether this
is scheduling genius or incompetence but the
high-flying Hurricanes have to finish their season
with consecutive games against the Chiefs,
Blues, Crusaders, Highlanders and then the
Chiefs again. How about that for a tough run-in?
The chances are high, though, that the New
Zealand Conference will still be in the balance
come that final pool round and a ferocious
New Zealand derby awaits. Can the pass and
catch, run from everywhere Canes do enough
to stretch a brilliant Chiefs' defence? And the
BIGGER question – will Ma'a Nonu and Sonny
Bill Williams go head to head? Let's hope so –
that will be a whole game within itself.
QUESTIONS
THAT WILL
EMERGE
Who will be the highest profile
player to miss All Black World
Cup selection?
Has anyone got any idea who
the All Blacks' third hooker
is likely to be?
Is Richie really going to retire
or will he have one last crack
at trying to win Super Rugby with
the Crusaders?
Can anyone in New Zealand
actually goal kick any more?
Will Ireland persuade Joe
Schmidt to stay on as coach
aer the World Cup?
Why was Waisake Naholo
able to leave NZ so easily?
How good is Damian
McKenzie?
Were he and his brother
Marty cloned?
If he had to, could Beauden
Barrett grow a moustache?
Will Charles Piutau be
punished for signing an
overseas deal?